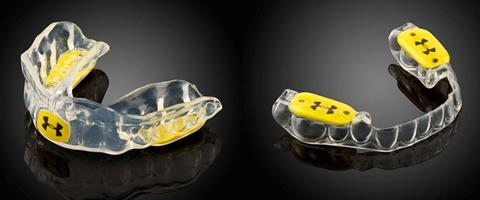 At Rancho Santa Fe Orthodontics, we want you to have the best protection for your new smile! Once you have completed orthodontic treatment, we can custom fit you for an Under Armour Performance Mouthguard to protect your perfect new smile and improve your athletic performance.
How it works
You are "hard-wired" to clench your jaw. When you train and compete in sports, your natural reaction is to clench your jaw. The patented Under Armour ArmourBite Technology prevents your teeth from clenching and pivots the jaw forward to relieve pressure on your TMJ (temporomandibular joint). Mouthguards provide performance benefits as well as dental protection. The benefits of custom fit mouthguards include:
Increased strength by improving airflow and releasing stress from clenching
Increased endurance by enlarging the airway opening
Reduced impact of blows to the jaw, which reduces the chances of concussion
Under Armour Performance Mouthguards are great for full contact, limited contact, and non-contact sports. Ask Dr. Lam for your custom fit Under Armour Performance Mouthguard powered by Armourbite Technology.